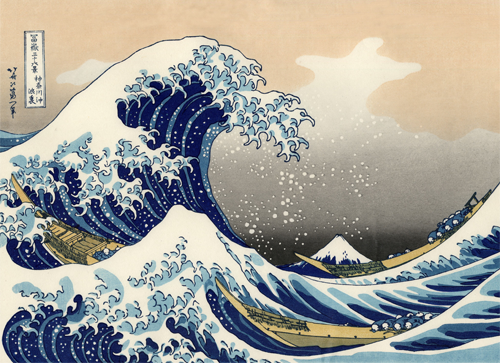 naming the top artists of all times can be so west-centric. in almost all cases, you cant find any asian presence in this illustrious list. if theres one asian artist who is most likely going to land in the list dominated by western names, it has to be no other than Katsushika Hokusai, the japanese master painter who created the famous woodblock print named The Great Waves Off Kanagawa. i think its the most popular of all classic oriental artworks. its not as popular as The Mona Lisa or The Scream, but hokusai's creativity still influences some contemporary artworks. i didnt study art so i really dont understand why they consider it a masterpiece.
Hokusai Mural Camberwell, London - photo from Smithers-Jones flickr.
i was watching a local tv show few days ago, wen the commercials were aired, an animation tv ad by Nissin caught my attention. - yes that japanese noodle maker. i think its soo cool and smart for the ad to utilize the kanagawa waves. ive only seen it once and unfortunately i cant find it in youtube, but im so positive about those familiar waves making splashes telling everyone about an instant noodles in a cup.
if im not mistaken many years ago, a local biscuit brand (hansel or was it bravo?) used edward's munchs The Scream for their tv commercial.
tv commercials can be a tool for the public to be somehow exposed to the arts.... because art exhibits are inaccessible to the masses and it has this intimidating and sometimes snotty feel to it, as if the upper class has the only right to appreciate the finer things in life.