i admire foreigners who considered the philippines as the playground of their imagination, like alex garland (the teserract) and my favorite wong kar wai (the Days of Being Wild) among others. its rare for our country to get this kind of publicity without involving a natural calamity.
in 2009, acclaimed french vietnamese director Tran Anh Hung brought josh hartnett and takuya kimura into the jungles of mindanao wer they shot a part of the film noir "I Come With the Rain". to be exact, the filming took place in mt diwalwal! yes! that notorious mining town tucked in some remote mountain region in mindanao. isnt it soo cool!
Tran also directed the art film "The Scent of Green Papaya" which won him an award at Cannes. i wanted to like Green Papaya but it was just slow and too simple it barely had any strong impression on me. but on a positive note, it was such a treat to have a glimpse of an era in vietnam that has nothing to do with the war in the 60s. so scent of green papaya left me somwer between hating and liking it. if not for its unique title, i wuldnt watch this film.
my favorite diwalwal scenes from the movie:
a distraught josh hartnett ordered a bottle of beer in a dingy hole in the wall in diwalwal. there wer strippers gyrating to an oldies ballad (Gintong Araw by Rodrigo Bing, i find this song choice rather weird and unsexy) but Josh was too distressed to even ogle at the nudity being served in front of him. haunted by his memories, he turned his back from the sleazy scene, pause a moment and left the bar. deadma! na hugyaw ko sa background music!!
The resurrection of shitao.
Shitao (kimura) came back to life days after he was shot dead by three armed men in the jungle. u must see the pain in his eyes as he rose from the dead acting mad and confused, maggots and insects creeping on his bloodstained body. it was jus him amidst the lush foliage on a rainy day in the tropics. this scene has no dialogue and it convinced me that takuya is indeed a brilliant actor.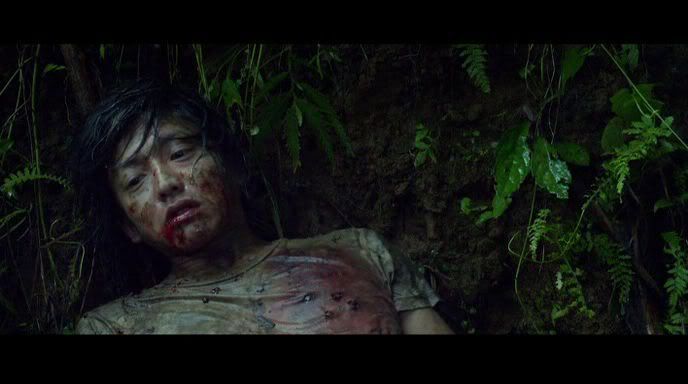 the Bible taught us how Jesus raised Lazarus back to life. but there was no Jesus in the movie. shitao himself became like Jesus, like a messiah he acquired the power to heal those who are sicked. it is said that the resurrection of Lazarus was a turning point in the crucifixion of Jesus. someone is nailed on the cross at the end of the movie.
psychology, trauma, stockholm syndrome, hong kong triad, cult, violence, exotic locations, detective crime, cruxificion… if u are interested in these things, then this movie is a must see. as with my experience with the Scent of Green Papaya, dont expect that much with I Come with the Rain.
_______
Diwalwal is one of those places that i really wanted to visit even if there are safety concerns. i want to experience how it was like during gold rush, descending into those tunnels to mine precious metal either by hand or TNT! gold panning too is something that i want to try. gol
my moms family actually live not far from this mining town. i remember mom told me that we have relatives living there. how i wish i know them.
i remember a classmate in elementary who was born there. she was named after this place and we sometimes call her as Diwata. Asa na kaha to si din?