wen i was about to finsih college, i told myself that i have to travel to east malaysia (borneo) right after graduation. it was a promise too ambitious and perilous. for one, my desired route was to take the passage via the hostile southern philippines passing by areas were bandits lurk, think beheadings and the kidnaping of ces drilon. second, ive never been on solo trip to a very far place before. unfortunately, things didnt go as planned. my father got terminally ill and as a son, i took the duty to take care of him. my father died months after. and with death comes all the grief that wanes all your interest to materialize plans.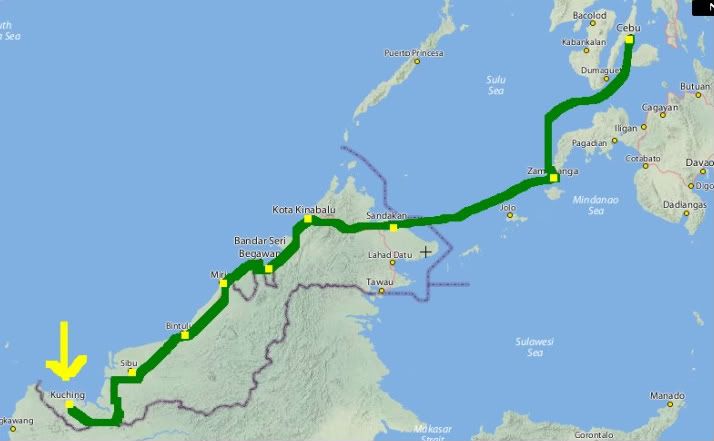 click to enlarge. the route less taken.
i dont know why im so fascinated with sabah-sarawak area that i even read its history. i jus hav to go there! this wuld be my itinerary: starting point is in zamboanga wer i wuld take a ferry boat to sandakan, and from sandakan, i wuld travel southwest to kota kinabalo and bandar seri begawan, then to the jungles of sarawak and finaly to my last stop in kuching before heading home. kuching has a special spot in my heart coz its a place associated with cats and i believe i was feline creature in my past life.
on a ferry to sandakan, i wuld look at the sea and imagine those nautical ravages that happened centuries ago when notorious pirates from sulu heavily infested these waters. these moro marauders were so feared as they mercilessly raid coastal villages. one of the books ive read mentioned these pirates were very skilled mariners that they can go as far as papua new guinea and the bay of bengal! amazing isnt it? the piracy was a huge problem until the british colonizers based in sabah finally intervened. armed with their advanced weaponry, the pirates were slowly expelled.
an iranun pirate. fierce!

we can no longer hear news about fleets of sulu pirates on their large vessels with sails that catches seasonal winds. from the south, they sail to the north to snatch beautiful ladies (dumaguete) and loot villages along the coast. instead, we hear modern day pirates in somalia hijacking tankers that could be manned by filipino seafarers. hope there will be more studies about sulu pirates.