valparaiso is an important port city in chile.
in the late 1940s, chilean poet pablo neruda became a political fugitive. he went into hiding for months in a house basement in valparaiso. his house there is now a museum.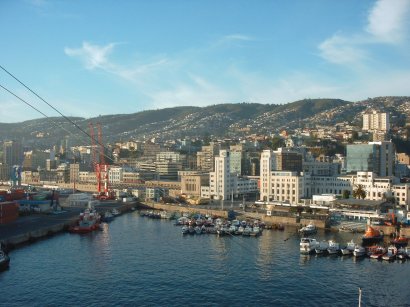 im not into poems. we hav a coffee table book about robert frost at home. on each page, theres a poem and a beautiful black and white photo of a winter scene somwer in michigan. i tried reading the poems over and over but i jus dont get it. i instead turned my attention to the photographs.
theres only one poem in the world that i truly appreciate. its from the lover of the sea himself pablo neruda. its sexy and sensual. second stanza:
Drunk as drunk
Pinned by the sun between solstice
And equinox, drowsy and tangled together
We drifted for months and woke
With the bitter taste of land on our lips,
Eyelids all sticky, and we longed for lime
And the sound of a rope
Lowering a bucket down its well. Then,
We came by night to the Fortunate Isles,
And lay like fish
Under the net of our kisses.
----------
thousands of miles from chile is the great archipelago of indonesia.
my favorite singer Anggun is indonesian.
in 1998, anggun together with french producer benzi released the album "snow on the sahara". it became a world wide hit.
my favorite track in the album is the lesser known song titled "Valparaiso". its an upbeat song with an enchanting javanese(?) flavor.
Valparaiso by the sea
Bring me back into your dreams (Valparaiso)
Cause at my window there's a moon (Valparaiso)
From here to Cali and Bandung
sting has a song called Valparaiso too!
-----
wen i think of valparaiso, i think of beautiful landscapes and sunlight filled rooms with huge windows that open up to the ocean view.
perhaps im romanticizing valparaiso too much here. jus the sound of its name has its own charm. i wanna visit this place someday.
things that u like are surprisingly interconnected.